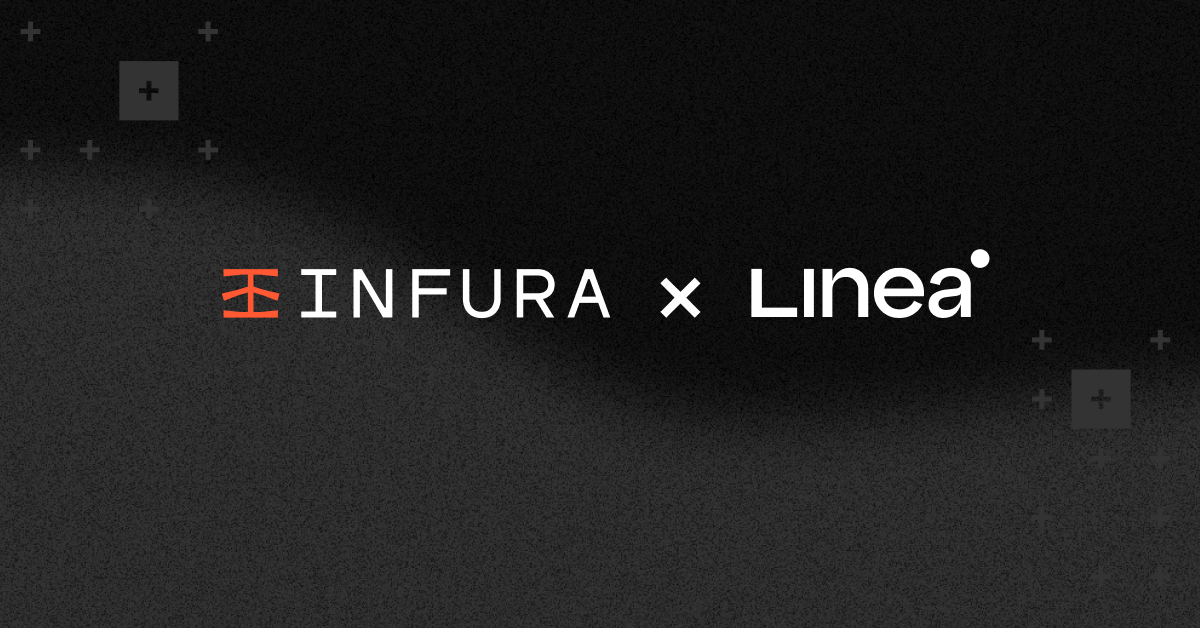 The Linea testnet endpoint is now live on Infura! Here's what it means for developers hungry to build on zk-EVM.
In December 2022, Infura's parent company, ConsenSys announced plans to launch a zk-EVM rollup as part of its mission to advance and scale the Ethereum protocol. The announcement included launching a private testnet and developers using Infura were some of the first to be part of the beta program. Over 350,000 developers signed up and the teams at ConsenSys and Linea were thrilled at the response of the ecosystem and the progress made during the private beta. Linea's public testnet launched on March 28th and as the network continues to grow, we're excited to share that the Linea testnet endpoint is now live on Infura.
Previously, developers accessed Linea through a public beta endpoint. Now, developers can seamlessly access Linea via Infura with their API keys ( https://linea-goerli.infura.io/v3/<api key>), leveraging all the reliability that Infura infrastructure provides. Existing Infura users can use the endpoint immediately and new users looking for access to Linea can create a free account at https://app.infura.io/register.
Let's break down further what the Infura x Linea combo means for developers and how you can accelerate your blockchain development with the fastest growing zk-rollup on the market.
What is Linea?
Linea is a new zk-rollup, layer 2 (L2) network that is EVM equivalent. This zk-rollup is the culmination of years of research by the ConsenSys R&D team and provides full Ethereum Virtual Machine (EVM) compatibility that allows developers to deploy and manage applications without changing their smart contract code or devops. Linea was built to achieve three core goals:
Execution of unaltered, native bytecode in accordance with the Ethereum Virtual Machine specification
100% coverage of diverse opcodes
Delivery of a "Type 2" zk-EVM (as defined by Vitalik Buterin)
The innovative lattice-based prover offers leading performance in proof generation, resulting in cost effective transaction fees. Linea also offers fast finality, high throughput, and the security of Ethereum settlement.
To date, the Linea team has had positive feedback and encouraging results on the public network, which has already processed over 18 million transactions and onboarded dozens of ecosystem partners and dapps.
As the Linea public testnet grows, we hope you'll join us to help scale Ethereum. If you're interested in exploring current apps or submitting your own project go to the Ecosystem Portal.
Infura x Linea: Simple dapp development with infinite scalability  
At Infura, we know developers must operate their blockchain applications at scale with high-speed performance at an affordable cost. This is what the combination of Infura and Linea brings to the Ethereum ecosystem: simple dapp development with infinite scalability.
As the Linea network gains momentum, Infura is scaling alongside it, guaranteeing dapps exceptional response times to scale securely.
Web3 projects that took part in the private beta program are building dapps for the NFT, DeFi, and gaming verticals.
Linea continues to onboard a growing list of partners, dapp infrastructure providers, and industry leading tools you can check out here to help developers get started building right away. Check out Linea developer tooling and infrastructure to get started.
Leverage Infura's multi-chain platform and test ETH faucet
The Infura team remains hard at work to provide developers access to multiple blockchains as we constantly add access to more networks and build a multi-chain future for web3. Developers can deploy dapps on over 10 networks, including Ethereum, IPFS, Polygon, Avalanche, NEAR, Arbitrum, Optimism, Aurora, StarkNet, Celo, and the most recently added, Linea testnet.
The Infura faucet also now supports Linea to provide a much needed and reliable resource for test ETH to the thriving Linea ecosystem of builders. We hope you enjoy the convenience of receiving 0.5 Linea ETH daily through the Infura faucet.  
Get started building on Linea with Infura today here.